24 February
Mark Duckworth Chartered Building Engineer/RICS (Evaluative) Mediator, Martin and Mortimer
Mark is originally from an agricultural background although most of his working career has been spent working across a range of business disciplines.
Having retrained as a surveyor in later life he set up his own property business before joining Martin & Mortimer Chartered Surveyors in 2010 becoming managing director in 2013. In addition to management responsibilities his role includes providing expert witness reports, party wall and boundary work as well as dispute resolution as an RICS mediator.
Mark seeks to understand the people he works with as well their buildings as a primary way of adding value.
27 January
Graham Brown, Managing Director, Forces Recruitment Solutions Group Ltd
Graham is a former East Cambs Business person of the year and an ex Army musician and Gulf War veteran, who, since leaving the army, has dedicated most of his life helping ex-Servicemen and women.
He is still active in the local theatre community and can often be seen conducting or performing with local theatre groups.
He set up Forces Recruitment in 2001 and FRS has been responsible for helping over 10,000 personnel into work in that time across a diverse range of roles. As well as an expert recruiter Graham is a behavioural assessment interpreter and trainer, helping teams to work more effectively together.
Graham will be talking about the benefits of recruiting ex-military and will give you the top 10 tips you need to consider before you hire someone.
28 October
Guest Speaker.
Julie Moktadir Partner, Stone King LLP
Julie has worked in various areas of law with particular expertise in policy work, immigration and asylum law. She has advised organisations and individuals on a broad range of immigration issues, including UK organisations recruiting from abroad and matters affecting European nationals employed in the UK. She uses her knowledge of often sensitive immigration-related matters to support clients across Stone King's sectors.
23 September
Guest Speaker:
William Wilson, Partner, Price Bailey LLP
William joined Price Bailey in 2017, as a partner, when the firm acquired Sandcroft. William has 20 years' experience in general practice serving a wide of owner managed businesses. William's existing client base falls within the Business team. With extensive hands on experience he is capable of coming up with innovative solutions to management reporting issues.
When not at work William can found either on the hockey pitch, cycling or spend time with his young family.
24 June
Guest Speaker: Stuart Grainger, Managing Director of FWD-IP
Founded as Ely Telecom in 1992 by Michael and Moira Grainger, FWD-IP Ltd is an innovative, forward thinking technology integration company. FWD-IP offers a wide range of complete communications services across a range of sectors. FWD-IP is always at the forefront of technological developments, being one first installations companies in the UK to be accredited for the sale and installation of Optical LAN. Their clients include Ely Cathedral, Cambridge Corn Exchange, NHS Cambridgeshire, Cambridge University and the Fitzwilliam Museum.
Stuart Grainger was awarded IoD East of England Director of the Year 2017 and was a finalist in the UK Director category that same year.
3 June 2019
Guest Speaker: Jonathan James, Jonathan James Retail Ltd
After a successful career in the Fresh Produce industry Jonathan and his wife Rebecca took over her family business in January 2000. James Graven and Sons Ltd was formed in Ely in 1860 and owns a number of commercial properties in the area.
Jonathan also owns and operates James Convenience Retail LTD which is the UKs largest independently owned chain of convenience stores employing 450 people. Jonathan is a former Chairman of the Association of Convenience Stores and a regular contributor to National and Local Radio and Television. He is also an inspirational speaker at business conferences .
29 April 2019
Guest Speaker: Claire Somerville, Chief Executive at Babylon ARTS (operated by ADEC)
Claire Somerville is Chief Executive of Babylon ARTS, an independent charity which has been operating in Ely for almost 25 years. Claire joined the organisation last year to a new post, with the aim of building the charity's capacity to do more, and to increase the profile of the work that it does across East Cambridgeshire, Fenland and Forest Heath. With no core funding, Babylon ARTS has to be resourceful and use mix of commercial income, public funding and sponsorship to carry out its work. Babylon ARTS is probably best known locally for the Babylon Gallery and Ely Cinema at the Maltings, but it also runs a variety of creative projects involving thousands of people each year.
Claire will be talking about her specific plans for Babylon ARTS.
25 March 2019
Guest Speaker: Christopher Walkinshaw FRAeS FIMI, Marshall of Cambridge (Holdings) Ltd
Christopher joined Marshall of Cambridge in 1983 and has been a director since 1999. He has worked in all of the principal Marshall businesses, including Marshall Aerospace, Marshall Land Systems and Marshall Motor Holdings, where he worked from 1994 to 2011. Christopher joined the senior team in Marshall of Cambridge (Holdings) Ltd in 2011, where he has particular responsibility for external relations and communications. He is a Non Executive Director of Marshall Motor Holdings plc. He is a Trustee of Addenbrooke's Charitable Trust, and a board member of Anglian Learning (a multi academy trust). He is a member of the Joint Assembly of the Greater Cambridge Partnership. Christopher is Chairman of the Regional Employer Engagement Group (REEG) for the East Anglian Reserve Forces and Cadet Association and a member of the Cambridgeshire County Forum. Christopher is Chairman of No.104 (City of Cambridge) Squadron of the RAF Air Cadets and a Vice President of the Air League Trust. He is a Vice President of the Automotive Fellowship International and a Fellow of both the Royal Aeronautical Society and the Institute of the Motor Industry. He is a Freeman of the City of London and a Liveryman of the Worshipful Company of Coachmakers and Coach Harness Makers.
Marshall of Cambridge is a private company headquartered in Cambridge and founded in 1909 as a chauffeur business. Its growth since then has been funded entirely by ploughed-back profits and the Group now comprises 3 main pillars: Marshall Aerospace and Defence Group, which includes Cambridge Airport; Marshall Group Properties which manages the company's estate and the 2 million sq ft of industrial/commercial and office space; and Marshall Ventures, the investment arm of the business.
Marshall also retains a 65% majority shareholding in Marshall Motor Holdings Plc, the 7th largest motor retail group in the UK. Overall Marshall has a turnover in excess of £2.6 billion and employs something over 6,000 people in the UK and overseas.
Marshall of Cambridge (Holdings) Ltd is a Silver Corporate Sponsor of the Ely Cathedral Business Group.
25 February 2019
Guest Speaker: Joe Hemsley-Rudd, Sales Director at Ellgia Recycling Ltd
Joe has over 20 years' experience in the Recycling sector and has held key commercial roles with some of the UK leading companies including Cleanaway, Pennon Group and BT.
In 2011 Ellgia Recycling was formed by Managing Director Steve Crook, Foreman driver Pete Drage and Sales Director Joe Hemsley-Rudd and it has grown into one of the regions largest commercial recycling and waste management business.
Ellgia Recycling was named the National Independent Operator of the year at MRW National Recycling awards and was named in the prestigious Top 100 Companies in Cambridge in 2018.
Monday 14 January
Guest Speakers: Katherine Hickmott and Daniel Bell, Co-Directors of KD Theatre Productions LTD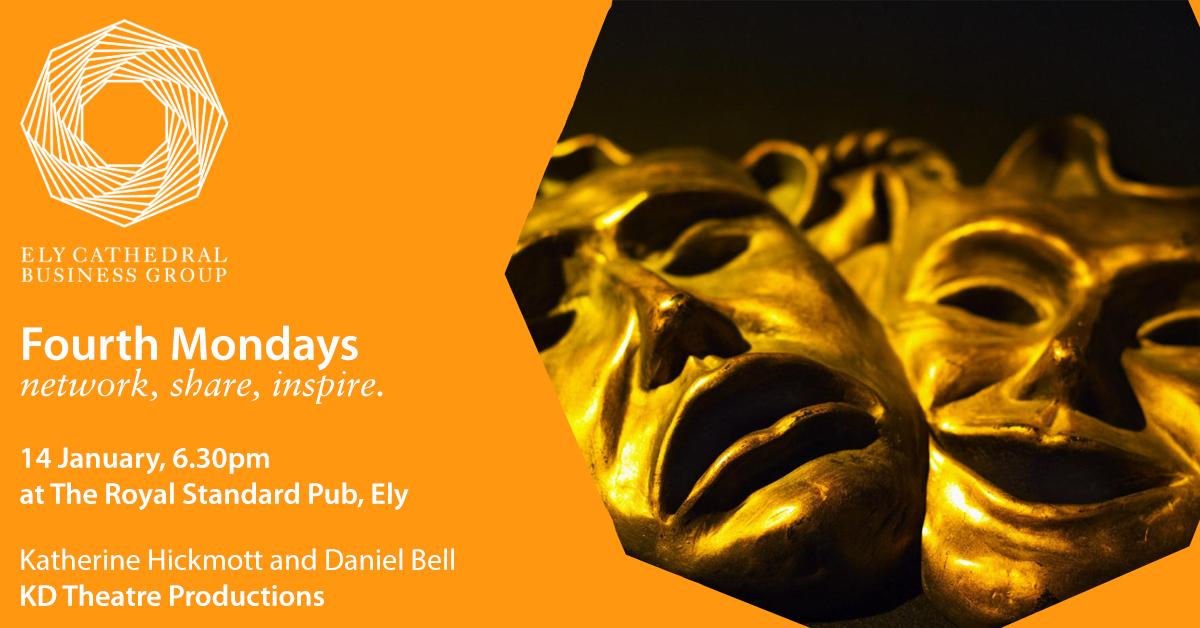 Katherine and Daniel return to our Monday forum on the 14 January 2019 to update us on their amazing progress since her first visit at the end of 2016.
Founded in 2013 by Katherine Hickmott and Daniel Bell, KD Theatre Productions' Pantomimes and Musicals have found their way into Norwich, Peterborough, Harlow, Hartford, Hunstanton, Ely and the Tristan Bates Theatre in London. Jack and the Beanstalk, Santa Show, With One Look are all on at the Maltings in Ely this Christmas, with Alice in Wonderland following in April 2019.
In 2016 as part of their Business Mentoring initiative, Ely Cathedral Business Group were able to facilitate the introduction of two business mentors, free of charge from their membership, to support Katherine and Daniel in their growth plans.
Monday 26 November
The Brexit Debate
Amid growing support for a second public vote, former Mayor of Ely and former Deputy Police and Crime Commissioner Brian Ashton proposed the motion that 'the UK should still leave the EU'. Mark Inskip from the Ely for Europe group will be leading the case for remain. Mark was the Opposition Leader on Southampton Council and now lives in Sutton. The motion for leaving received 7 votes but was beaten by 19 in favour of remaining. There were 2 abstentions.
Monday 22 October
Mark Cooney of Spotted in Ely
Mark Cooney has a varied career. He has been in the Royal Air Force as an Assistant Air Traffic Controller, owned a second-hand book company winning an award for it. He was Recycle Manager for one of the largest recycling companies in the UK, has been a Bus Driver, a Bar Owner and Manager, Warehouse Operator and Taxi Driver, and of late is the owner of Spotted in Ely and Inyoni Productions Ltd.
Spotted in Ely was founded in 2013 quickly becoming the most popular platform to share news in Ely and the surrounding area. With more than 21,000 followers on Facebook, 2,000 on twitter, posTwittering 150,000 per week, SiE has a diverse audience with the biggest age range between 25 and 44 featuring community news and often first ahead of other agencies. SiE also believes in supporting local businesses. News, advertorials, advertisements, events, jobs and business buzz directory are all included in the day to day products and services.
Spotted in Ely is run by just 2 people and their dedication to Ely despite only living here a few years shows every day in what they do.
Monday 24 September
Eleinorana ni Chartaig and Silke Trevor of Fraser Dawbarn LLP
Fraser Dawbarns are a leading law firm with several branches in East Anglia. They have recently opened an office in Ely, and two experienced solicitors would like to share their expertise.
Eileanora Ni Charthaig
- Buying and selling properties whether commercial, residential, dealing with developments from the original acquisition of the sites to securing finance, dividing the sites, assisting with planning issues and ultimately selling off individual plots
- Dealing with all commercial leases including negotiating on dilapidations, extensions and related matters
Silke Trevor
- The setting up of businesses and selecting a structure (e.g. sole trader, Limited liability Partnership or Company)
The preparation of agreements to strengthen the structure and provide some "storm proofing" (Partnership/LLP/Shareholders' Agreement)
- Preparing for and advising on changes in the business such as joining businesses together, expanding by taking on new business partners/shareholders, planning for future changes in the business such as retirement/succession/advising on the sale and purchase of a business
Monday 25 June
'Changing the World for Fun and Profit' with Peter Dawe

Peter Dawe has founded over 100 businesses and organisations, typically averaging one initiative ever 3 months. They vary from small single person businesses to an LSE quoted multi-national. Sectors where Peter has been successful include Internet, International Telecom Fibre, Housing benefit reform, health care services, Financial services, Software, Agriculture, Media... and many more where he has been unsuccessful. His current initiatives include WizPar, CItiPod, Floating Fields, Ely Free WiFi, Theatre, "Beat-the-Bear" and World economic modelling.
Peter's talk will describe how he manages so many projects, the challenges they present, why he bothers and what his current projects are seeking to achieve.
Monday 21 May
Guest Speaker: Jessica Martin, Canon for Education and Outreach, Ely Cathedral
'How to be Good?'
Her background is literature, rather than business (she used to teach English at Trinity College in Cambridge), and her title is taken from the bestselling novel by Nick Hornby, where the hero tries to 'be good' – and it comes close to wrecking all his relationships!
She will think about what 'good' could mean in a professional context: about policies of generous engagement in professional relationships, their limits and their potential effects.
She will be running a 'How to be Good' discussion forum at the Cathedral in the autumn, focusing on different professions.
Monday 26 March
Guest speaker: Paul Fuggle, Business Strategist and Managing Director of Clear Focus Consulting
'Strategically Stacking Success'
Paul Fuggle is a Business Strategist and owner of Clear Focus Consulting and has over 18 years experience in creating and implementing strategies and systems for multi-national corporations, FTSE 100 companies and SME businesses. In this session we will be looking at how you can strategically stack the odds for success in your favour and how this can be applied at an individual, business and city wide level.
Monday 26 February
Guest speaker: William Rooke of Carter Jonas
'Location, Location, Location'
William Rooke is a Chartered Surveyor and Partner in the Commercial Property team at Carter Jonas. Operating in the transactional side of the business he provides both private and public sector clients with advice on their real estate, building up a detailed knowledge of the local market in the process. With the success of Cambridge as the regional centre to live, work and play well established, in this session we will consider how Ely can capitalise on Cambridge's continued growth and the role the property market can play in this. We will also review where the demand for space is coming from, the impact recent and proposed developments will have on the area and concluding what is required to attract new occupiers and investors to Ely.
Monday 22 January
Guest speaker: Tracey Harding of the Ely Tourist Information Office and Visit Ely
Spotlight on Visit Ely - Keeping Ahead of the Game
Tracey Harding is the Tourism, Town Centres and Events Manager for Visit Ely. Responsible for promoting Ely and the surrounding area, managing the Tourist Information Centre and Oliver Cromwell's House, supporting local businesses and putting on major events - the remit is wide. Having spent nearly 20 years working for the local authority she has seen many changes. As a result of budget reductions and the dawn of the digital age the service has had to adapt and operate more commercially. This is your opportunity to understand the important role that Visit Ely plays and how it intends to operate in the future to ensure Ely remains the wonderful place that we all know and love.
Monday 27 November
Talk by Sarah Simonds, Artichoke Ely
Where Angels Fear to Tread, Retail in the 21st Century
Sarah Simonds of Artichoke is an accidental retailer. Retiring from a career in shipping to have her children in the late nineties, Sarah thought that she would become a lady who lunched. Life, however, as it so often does, "bit her on the bum" and she needed to earn cash whilst her children were very small. Living in rural West Norfolk, this proved to be quite difficult. So at a girlfriends suggestion, Sarah set up a mobile clothes shop. Fast forward fifteen years and you will note that Sarah has two bricks and mortar shops, one in Ely and the other in Swaffham, an established pop up and a small web business. Sarah will be discussing the challenges facing independent retailers in today' s economic environment.
Monday 23 October
Talk by Mike Connelly, Publican of two pubs in Ely
'The business of your local pub'
Mike Connelly is the publican of two pubs in Ely, the Prince Albert in Silver Street and the Royal Standard in Fore Hill. Based on his considerable local experience, Mike takes particular interest in the success of independent businesses in Ely. He will illustrate the importance of such businesses, from the perspective of a pub operator, to the local economy. He will in the course of his talk explain the relationship between breweries and pub operators and the pressures that face pub tenants at the local level
Monday 25 September
Tracy Grazioli CertBB&C & M.I.Ex Director, International Anglia Santander plc
International Expansion Plans
Tracy will run through significant information, aiming to provide practical advice & invaluable insight about International Trade to companies looking to export for the first time or looking to develop their existing International business via business leads & exporting insights available on Santander's unique Trade Portal.
UK businesses can get a significant amount of information from the Portal, a free online resource to help exporters both identify the best export opportunities & find the information & key contacts needed to achieve success on a Global basis. There are over 190,000 importers in key countries listed, circa 30,000 suppliers, more than 40,000 trade shows, over 1 million public & private tenders worldwide along with a directory of potential customers, suppliers & possible competitors.
Tracy has developed a wealth of International Trade Finance experience working in the banking sector for more than three decades', including 5 years working for Santander, almost 20 years at Bank of Ireland & specialist Trade Finance houses like Delta Trade Finance & China Export Finance. Her understanding of the international markets enables her to offer best practice insight to firms.
Monday 26 June
Patrick Neate
Brexit, 12 months on
This week's discussion, "Brexit, 12 months on" attracted a good audience at the Royal Standard Pub in Ely. A lively discussion took place - far from a bunch of business people reciting the same script! Many differing views were expressed: about whether the Government was approaching things sensibly; about things that have already changed for worse; about the opportunities and pitfalls for businesses as they seek to forge new international partnerships; and about what can be done to ensure that everyone is listened to, covering all shades of business society, but also the ordinary people whose lives may be affected by the outcome of Brexit negotiations. Above all, though, the main message, even for the leave contingent, was that a strong feeling of anxiety and uncertainty continues to pervade East Anglia - a feeling that is unlikely to go away for some time. Meanwhile businesses, small and large, must determine their own path if they are to survive, yet they still lack clear visibility of the likely outcome of negotiations with Europe over free trade agreements, immigration rules, legal jurisdiction and other key concerns, such as the possible effects on the research and innovation communities. With all the above in mind, Ely Cathedral Business Group is considering how best to theme its Autumn Debate on 11 October, 2017. Progress with Brexit is an obvious candidate, but we would be very glad to hear any views on that or alternative subjects affecting how we do business in Cambridgeshire. Do let us know if you have a suggestion, but, above all, do put the date in your diary!
Monday 22 May
Jo Evans Emerald Frog
Business and the community: Offering work experience
Jo Evans has nearly 20 years' experience in Marketing, working as Direct Marketing Manager for a market leading international company prior to establishing Emerald Frog Marketing. With extensive hands-on experience, Jo has managed successful and targeted marketing campaigns to both the public and private sectors.
Jo is accredited by the Institute of Direct Marketing with the industry recognised IDM Diploma in Direct and Interactive Marketing. She also has extensive experience with marketing strategy and writing copy for direct mail, e-campaigns, promotional material, press releases, websites and SEO.
Monday 24 April
Canon Stephen Bourne, MA, FCA Administrator of Ely Cathedral
"Survival in the Cathedrals Business"
For the past 20 years, Stephen has specialised in the management of not-for-profit organisations, including Cambridge University Press, the Theatre Royal in Bury St Edmunds, Britten Sinfonia and The Wine Society. In his retirement, he manages 'the business side' of Ely Cathedral and is Vice-President of Clare Hall, Cambridge.
At a time when there is much disquiet about the finances of several of England's cathedrals, Stephen will offer us an insight into how various ancient businesses have survived for centuries and how cathedrals are still in a position to outlive most commercial businesses in the modern age.
Monday 27 March
Austen Dack ADprom Ltd
"From Potato to Panto - via The Tractor Boys"
Austen has been in Ely since 2006, coming to the city through his love of Subbuteo. Now entering his 50th year he has considerable marketing experience across many business models. His approach to marketing is through the use of partnerships. Teaming up the likes of Cheffins with a 11,000 audience professional pantomime, and launching the worlds only Potato street race are just two of his latest project.
With over 15 years marketing and brand management across Archant newspapers and websites, plus an editorship of Chippy Chat - the online and inprint platform for the fish and chip industry Austen's passion for marketing is catching.
Monday 27 February
Ivar Jenssen
My Shop is Local
Ivar has lived in Ely for 11 years now, before Ely he lived and worked in Pittsburgh - Pennsylvania, Oslo - Norway and London. He went to university in the US and has a degree in Accountancy. After many years working as a Financial Director, he has spent the last 12 years providing and implementing business software for small and medium sized companies in the UK, before setting up a new business venture in 2016 - My Shop is Local.
His presentation will argue that Cloud based software is a fantastic opportunity for SME's compared to the traditional business software model i.e. locally installed on server. He will also cover how his current business only use Cloud based software and how it all works together.